Back To Our Services
Anyone with a garage door remote clicker will be more than willing to share how the convenience of being able to remotely open a garage door has made their life easier. While there are few things that make coming into a garage on a rainy or cold day any easier than a remote garage clicker, some people do have concerns that the remote control to their garage will leave a hole in their home security for someone looking for an easy way into their home. Garage Door Remote Clicker New Caney offers the newest brands and services that include the latest measures in home security.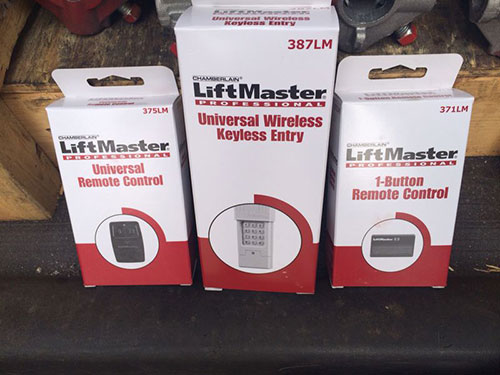 Garage Door Remote Clicker New Caney services and provides garage remote clickers from many brands that are known for their security measures. Brands of remote clickers and remote control services provided by Garage Door Remote Clicker New Caney are:
Liftmaster Security
Genie Intellicode
Clicker
Multi Code
Garage door remote repair
Garage door remote replacement
Garage Door Remote Clicker Services specializes in installing and servicing Liftmaster Security, Genie Intellicode, Clicker and Multi Code garage door remotes which offer the newest and highest levels of security for homeowners. Genie Intellicode and Liftmaster Security offer rolling code technology which is one of the newest ways garage door remotes use as a measure to protect the homeowner's security. The technology in the remote control changes the inner operation code every time the garage door is opened or closed. What this does is prevent criminals from copying the remote control code from the homeowners system to their own remote control, which is a possibility with less secure remote controls. Once someone has the entry code from a home programmed to their remote they can enter the home with ease because they can open the garage door.
The Multi Code remote has an added level of security in that it operates on more than one frequency.
This helps to block incoming signals from another remote or program that is trying to steal or copy the remote control code from the homeowners remote when it is in use. The Clicker, also known as the "one true universal remote" for garages, is one of the most versatile remote controls for garages. It can be programmed for any garage entry system. Once the remote system is installed it will likely need to be repaired at some point in its lifespan and Garage Door Remote Clicker Services can do that and also replace them when the time comes.
Back To Our Services