Garage Door Repair New Caney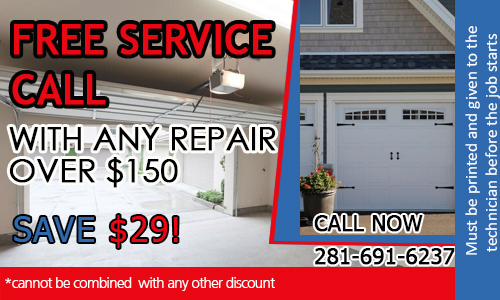 We know how to solve problems efficiently
For installation and repairs of all types of garage doors we are the company to call. We offer services for all brands of garage doors, Craftsman garage doors, and all types and brands of garage door openers. Having a smooth operating garage door makes the whole day go better. If you're experiencing problems, give our company a call today.
There are a number of materials used in garage doors. Steel garage doors tend to be heavy and very durable. They require strong torsion springs to lift the doors. Steel doors also need to have a strong type of garage door opener, such as a belt-drive type.
Wood is also used for garage doors, as are aluminum and glass. Some glass garage doors are constructed of aluminum between the glass panes, making the door lighter in weight than it might seem. Lighter garage doors can be operated by screw-drive openers, although these tend to be extremely loud. Some homeowners say it sounds like a train is going through the house when the garage door opener is working. Another type of opener is a chain-drive. Our contractors can tell you which type of opener would be best for you.
Your home is only as secure as your garage door opener and remote. If your garage door opener is not working properly, you could be running the risk of an unwanted intruder getting into your home. We offer a complete repair and installation services for all major brands and types of garage door openers.
Many parts of a garage door may need maintenance and repair from time to time. If your door needs repair, it does not mean you've been neglectful as a homeowner. It just means the door parts have felt the wear and tear of time. We can help with any of the following issues:
fix an off track garage door and get it back on the track
repair or replace bent or damaged tracks
replace a damaged portion of a garage door
install new cables and drums
fix a snapped or broken cable
put a cable back on the drum when it's slipped off
fix a broken safety release
replace worn weather strip and rubber at the bottom of the garage door
and much more!
We strive to offer the very best in garage door maintenance and repair services in the area. Our friendly and knowledgeable staff waits to schedule your needed repairs today. Or better yet, drop in for a visit at the address below.
It's not an exaggeration to say that the teams of our company at zip code 77357 are magnificent. They're all trained strictly, are knowledgeable of all garage systems in Texas, and have the essential knowhow to deliver first class results. With our vast experience, we promise excellent garage door repair services.
We offer top services with new age equipment and well-trained garage door experts.We have excellent skills and the experience to provide garage door repair services with efficiency and velocity. Our contractors are 24/7 and distinguished in Texas for their ability to replace parts well and doors with accuracy. We are exceptional installers.
Read more